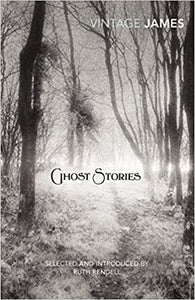 Book Title: Ghost Stories 
ISBN: 9780099560562
By Author(s):JAMES MR
By Publisher:RANDOM HOUSE
Format:PB
Malignant forces and supernatural visitors haunt this selection of superbly spooky tales selected and introduced by Ruth Rendell.

M. R. James wrote his ghost stories to entertain friends on Christmas Eve, and they went on to both transform and modernise a genre. James harnesses the power of suggestion to move from a recognisable world to one that is indefinably strange, and then unforgettably terrifying. Sheets, pictures, carvings, a dolls house, a lonely beach, a branch tapping on a window - ordinary things take on more than a tinge of dread in the hands of the original master of suspense.