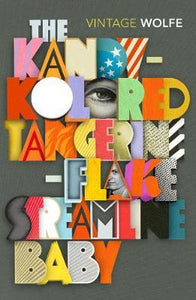 Book Title: Newvintage Kandy-Kolored Tangerine-Flake
ISBN: 9781784873721
By Author(s):WOLFE TOM
By Publisher:RANDOM HOUSE UK
Format:PB
Tom Wolfe's debut collection of essays - a brilliant, form-bending dive into the future of America as it careened through the 1960s

In 1965, Tom Wolfe dropped like a bomb onto the American literary scene with his first book, The Kandy-Kolored Tangerine-Flake Streamline Baby, an incandescent panorama of American counter-culture, its dances, bouffant hairdos, customised cars and rock concerts. Capturing the energy of the age in its portraits of Phil Spector, Cassius Clay, Las Vegas and the Nanny Mafia - as well as asking, why do doormen hate Volkswagens? - Wolfe's flamboyant essay collection remains one of the great, revolutionary landmarks of modern non-fiction.