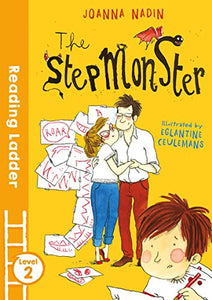 Book Title: Readingll3 Stepmonster
ISBN: 9781405282215
By Author(s):FINE ANNE
By Publisher:EGMONT
Format:PB
A funny, poignant family story by bestselling author Joanna Nadin, perfect for children learning to read.



Tom knows all about stepmothers from the books he's read. They do all sorts of horrible things. In fact, they aren't really stepmothers at all. They are StepMONSTERS! So when his dad's new friend Lulu comes to tea, Tom is convinced she will turn out to be a stepmonster.


She might not look like a stepmonster. (Her hair looks like it's been spun from gold.) And she might not act like a stepmonster. (She likes all of the same things that Tom does - manatees and moles and woodlice and playing Snap for hours.) But maybe that's just a clever disguise...


The Reading Ladder series helps children to enjoy learning to read. It features well-loved authors, classic characters and favourite topics, so that children will find something to excite and engage them in every title they pick up. It's the first step towards a lasting love of reading.