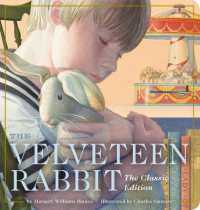 Book Title: Velveteen Rabbit Oversized
ISBN: 9781604338119
By Author(s):WILLIAMS MARGERY
By Publisher:CIDER MILL PRESS
Format:BB
You never know what to expect when Gran comes to visit! Join Emily as she explores the orderly blocks of San Francisco with Gran. Something unexpected happens when the fog rolls in, but adventures with Gran are always a treat!

Navigation
Expand Vocabulary
Culinary Appreciation
Cultural Exposure
Cultivate Imagination

Tilly Scott is the pen name under which Ana Lehrschall writes her children's books. She draws from her own life of adventure to infuse her stories with mystery, wonder, and good sense. Ana was born on a small island in the Mediterranean and moved to foggy San Francisco shortly after, where she lived with her whimsical botanist granny. She is now, a Marine Corps veteran, a Harvard Graduate, a social studies teacher, and a mother. Her insatiable thirst for knowledge and personal growth has led her on spirited expeditions across numerous continents. Her expertise in cultural anthropology and childhood education come together to create an exceptional reading experience.