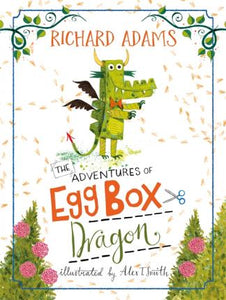 Book Title: Adventures Of Egg Box Dragon
ISBN: 9781444938418
By Author(s):ADAMS RICHARD
By Publisher:Hachette Children
Format:PB
From the author of Watership Downcomes an enchanting picture book about the adventures of a mischievous homemade dragon.

Whatever you've lost, Egg Box Dragon will find it. He's retrieved missing footballs, glasses and watches aplenty. He's so expert at cracking mysteries that the Queen herself requests his services. Will Egg Box Dragon find the missing diamond from the Queen's crown?

Richard Adams, author of Watership Down, was awarded both the Carnegie Medal and the Guardian Award for children's fiction. A new mini series of Watership Down will premiere Christmas 2018 on BBC1 and launch globally on Netflix Spring 2019, featuring the voices of Olivia Colman and Freddie Fox, amongst others.

Author-illustrator Alex T. Smith is the award-winning creator of the Claude series, now a TV show on Disney Junior.