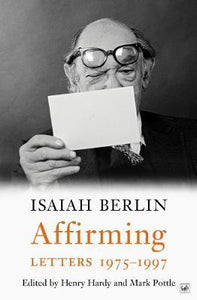 Book Title: Affirming: Letters 1975-1997 /P
ISBN: 9781845952259
By Author(s):ISAIAH BERLIN
By Publisher:RANDOM HOUSE UK
Format:PB
'IB was one of the great affirmers of our time.' John Banville, New York Review of Books

The title of this final volume of Isaiah Berlin's letters is echoed by John Banville's verdict in his review of its predecessor, Building: Letters 1960-75, which saw Berlin publish some of his most important work, and create, in Oxford's Wolfson College, an institutional and architectural legacy. In the period covered by this new volume (1975-97) he consolidates his intellectual legacy with a series of essay collections. These generate many requests for clarification from his readers, and stimulate him to reaffirm and sometimes refine his ideas, throwing substantive new light on his thought as he grapples with human issues of enduring importance.

Berlin's comments on world affairs, especially the continuing conflict between Israel and the Palestinians, and the collapse of Communism, are characteristically acute. This is also the era of the Northern Ireland Troubles, the Iranian revolution, the rise of Solidarity in Poland, the Chernobyl nuclear disaster, the fall of the Berlin Wall, Ayatollah Khomeini's fatwa against Salman Rushdie, the spread of Islamic fundamentalism, and wars in the Falkland Islands, the Persian Gulf and the Balkans. Berlin scrutinises the leading politicians of the day, including Reagan, Thatcher and Gorbachev, and draws illuminating sketches of public figures, notably contrasting the personas of Alexander Solzhenitsyn and Andrey Sakharov. He declines a peerage, is awarded the Agnelli Prize for ethics, campaigns against philistine architecture in London and Jerusalem, helps run the National Gallery and Covent Garden, and talks at length to his biographer. He reflects on the ideas for which he is famous - especially liberty and pluralism - and there is a generous leavening of the conversational brilliance for which he is also renowned, as he corresponds with friends about politics, the academic world, music and musicians, art and artists, and writers and their work, always displaying a Shakespearean fascination with the variety of humankind.