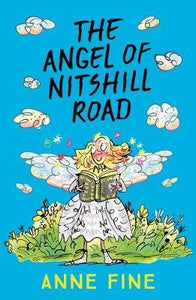 *Good as Gifts!
Book Title: Angel Of Nitshill Road
ISBN: 9781405288989
By Author(s):FINE ANNE
By Publisher:EGMONT UK
Format:PB
A classic children's book from one of best-loved Bill's New Frock authors, former Children's Laureate Anne Fine. Perfect for readers aged between 7 and 9 and fans of Awful Auntie and Pamela Butchart's Wigglesbottom Primary series.

Until the angel came, Penny, Mark and Marigold were bitterly unhappy. 'Fat.' 'Freak.' 'Smelly.' Barry Hunter was bullying them and everyone at Nitshill Road School knew it. But the angel brings a clever solution. Life at school is going to be very different from now on.