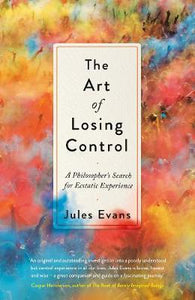 *good as Gifts!
Book Title: Art Of Losing Control
ISBN: 9781782118688
By Author(s):JULES EVANS
By Publisher:CANONGATE
Format:TPB
Jules Evans is lying at the bottom of a mountain after a skiing accident. But he's not thinking about his broken femur. He's having an ecstatic revelation.

Jules's brush with ecstasy leads him on an investigation: why have we been happy to accept Greek philosophy's attitude that rationality is the highest part of human nature for so many centuries, when we are capable of so many more states of experience? On his way, Jules discovers that by mastering the art of losing control, we can liberate ourselves from toxic habits and lead and better, deeper life.

Balancing personal narrative, interviews, and readings from ancient and modern philosophers, The Art of Losing Control is a fascinating, funny and thrilling guide to the different ways we can experience ecstasy and how it can motivate us, heal us and set us free.