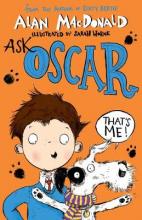 *Good as Gifts!
Book Title: Ask Oscar
ISBN: 9781405287227
By Author(s):MACDONALD ALAN
By Publisher:EGMONT UK
Format:PB
A brilliantly funny new series from Dirty Bertie author, Alan MacDonald, featuring a pig on a bike, a Poopomatic, and a talking dog!

Meet Oscar. He's no ordinary dog . . .

Sam has wanted a dog for AGES, so when Oscar turns up on this doorstep he can't believe his luck.

And when he finds out that Oscar's secret he can't believe his ears!

Oscar thinks humans are silly and rather badly trained - but when the freedom of the town's dogs is under threat, Oscar's about to discover that a dog's best friend is his boy.