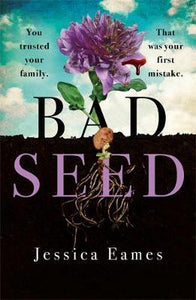 Book Title: Bad Seed /Bp
ISBN: 9781409189763
By Author(s):EAMES JESSICA
By Publisher:ORION
Format:PB
Nicola is going to die. Just like her husband did.

Nicola thought she'd gotten away with it.

Since her husband died, life has been getting back on track. She has a new boyfriend, Phil. A new home, living next door to her brother-in-law, his wife and their children. She is closer than ever with her daughter, Sarah. She even likes her job at the local shop, though she's had some time off recently with illness. The doctor says its menopause, that it's nothing to worry about. As if he could know how she's feeling.

Nicola is finally moving on with her life.

But then she receives the note. Someone knows what she did. They know the secret she doesn't even think about when she is alone.

And they want revenge.

A gripping domestic thriller told from the points of view of three women from the same family, each with their own heart-wrenching revelation.