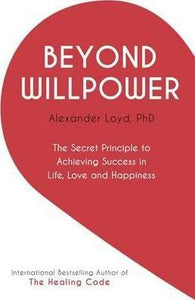 Book Title: Beyond Willpower
ISBN: 9781444795127
By Author(s):ALEX LOYD
By Publisher:HODDER & STOUGHTON
Format:PB
A new book from the bestselling author of The Healing Code about how to go from stress to success in 40 days.


The revolutionary new science of Practical Spirituality designed to replace stress with well being and success, quickly and for the long term.

Did you know that most self-help programmes have a 97% failure rate? The truth is that the standard self-help mantra of tapping into your willpower and using the power of positive thinking is actually a blueprint for failure. In Beyond Willpower, bestselling author and psychological counsellor Alex Loyd, reveals the definitive step-by-step programme to help you finally achieve the life you want and the success you deserve.

Science has proven that stress is the primary source of virtually any problem - physical, spiritual, emotional, and even circumstantial. Loyd believes that we need to understand how love works in our bodies to combat stress. By harnessing love's power and learning to love in the present moment, you can define your life goals and live mindfully in a state of peace.
Beyond Willpower offers a revolutionary 40-day holistic guide based on more than 25 years of clinical experience and rooted in science, ancient wisdom, and proven therapeutic techniques to remove personal obstacles that sabotage success. Using the programme you will define your goal, be it wealth, career satisfactions, healing of health issues, or resolution of relationship problems and follow the step-by step process for achieving this goal quickly and for the long term.