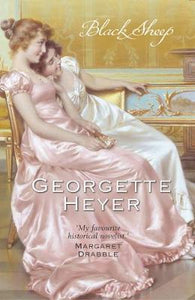 Book Title: Black Sheep 
ISBN: 9780099468035
By Author(s):HEYER GEORGETTE
By Publisher:RANDOM HOUSE
Format:PB
IF YOU LOVE BRIDGERTON, YOU'LL LOVE GEORGETTE HEYER!

'A rollicking good read that will be of particular joy to Bridgerton viewers ... the permanent glister of scandal [...] ties the whole thing together' INDEPENDENT

'One of my perennial comfort authors. Heyer's books are as incisively witty and quietly subversive as any of Jane Austen's' JOANNE HARRIS
__________________________
Abigail Wendover has no time for love.

She is far too busy protecting her niece, who has fallen madly in love with a suspected fortune-hunter.

But her efforts become vastly more complicated with the arrival of Miles Calverleigh, the black sheep of his family - a reckless bachelor with a scandalous past.

Abby soon discovers that, despite successfully managing her niece's love life, she has far less control over her own unruly heart.