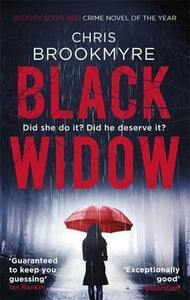 Book Title: Black Widow /Bp
ISBN: 9780349141329
By Author(s):BROOKMYRE CHRIS
By Publisher:LITTLE BROWN
Format:PB
Did she do it? Did he deserve it?

Diana Jager is clever, strong and successful, a skilled surgeon and fierce campaigner via her blog about sexism. Yet it takes only hours for her life to crumble when her personal details are released on the internet as revenge for her writing.

Then she meets Peter. He's kind, generous, and knows nothing about her past: the second chance she's been waiting for.

Within six months, they are married. Within six more, Peter is dead in a road accident, a nightmare end to their fairytale romance.