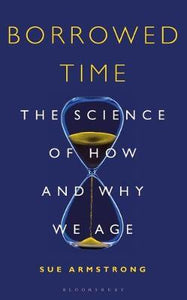 Book Title: Borrowed Time: How We Aged (Exp)/T
ISBN: 9781472936097
By Author(s):SUE ARMSTRONG
By Publisher:BLOOMSBURY UK
Format:TPB
'A rich, timely study for the era of "global ageing"' Nature

The ageing of the world population is one of the most important issues facing humanity in the 21st century - up there with climate change in its potential global impact. Sometime before 2020, the number of people over 65 worldwide will, for the first time, be greater than the number of 0-4 year olds, and it will keep on rising. The strains this is causing on society are already evident as health and social services everywhere struggle to cope with the care needs of the elderly.

But why and how do we age? Scientists have been asking this question for centuries, yet there is still no agreement. There are a myriad competing theories, from the idea that our bodies simply wear out with the rough and tumble of living, like well-worn shoes or a rusting car, to the belief that ageing and death are genetically programmed and controlled.