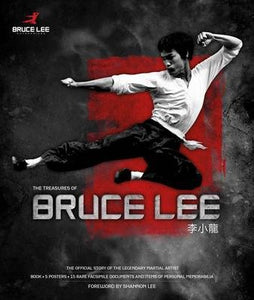 * Good as Gift!
Book Title: Bruce Lee Treasures
ISBN: 9781780971247
By Author(s):PAUL BOWMAN
By Publisher: CARLTON
Format:HC
"The key to immortality is first living a life worth remembering."

Bruce Lee

Bruce Lee was more than just an action star; he was an icon of speed, strength and charisma - an energy that ignited and inspired people all around the world - and as famous for his mental as his physical prowess. The Treasures of Bruce Lee, published with the Bruce Lee Estate, will tell this unique star's story as never before; through painstaking research, unseen memorabilia and unpublished photographs from the family archives.

Bruce Lee Treasures charts Lee's story from his birth in San Francisco back to the Far East, and explains how he became the invincible martial artist feared and famous the world over. Discover Lee's directorial, acting and choreographic genius through analysis of all of his movies. Relive iconic moments such as his yellow jump suit, two-finger press ups and, of course, the one-inch punch, and discover the secrets of their origins.





A unique collectable for every fan, Treasures includes facsimiles of an Enter the Dragon film poster, a hand-drawn anatomy sketch showing key pressure points, a handwritten poem, and many other posters, handwritten notes, sketches and cards, together with tickets and invitations.