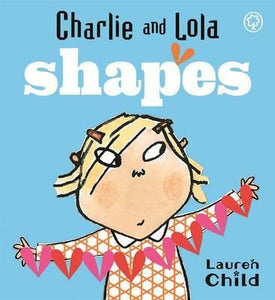 *Good as Gifts!
Book Title: Charlie & Lola : Shapes
ISBN: 9781846167850
By Author(s):CHILD LAUREN
By Publisher: ORCHARD BOOKS
Format:BB
Help your toddler learn about shapes with Charlie and Lola!

Lola says, "I know all my shapes. I know square ones, pointy ones and round ones. And some more extremely unusualish shapes too."

Little ones will love joining Lola as she explores the concept of shapes in this classic Charlie and Lola board book from Children's Laureate Lauren Child. From 'Round circle shapes' and 'Triangley shapes' to 'Star shapes' and 'Square-ish shapes' - this brilliantly quirky book will encourage children to look creatively at the world around them, and spot shapes in everyday objects.