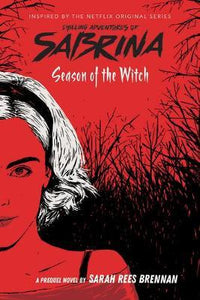 Book Title: Chillingadvsabrina01 Season Of Witch
ISBN: 9781338326048
By Author(s):BRENNAN SARAH REES
By Publisher:SCHOLASTIC
Format:PB
From the creator of RIVERDALE comes the Chilling Adventures
of Sabrina, a new NETFLIX series based on the classic Archie
comic series. This prequel YA novel tells an all-new, original story.

It's the summer before her sixteenth birthday, and Sabrina Spellman
knows her world is about to change. She's always studied magic
and spells with her aunts, Hilda and Zelda. But she's also lived
a normal mortal life - attending Baxter High, hanging out with
her friends Susie and Roz, and going to the movies with her boyfriend,
Harvey Kinkle.

Now time is running out on her every day, normal world, and leaving
behind Roz and Susie and Harvey is a lot harder than she thought
it would be. Especially because Sabrina isn't sure how Harvey
feels about her. Her cousin Ambrose suggests performing a spell
to discover Harvey's true feelings. But when a mysterious wood
spirit interferes, the spell backfires in a big way.

Sabrina has always been attracted to the power of being a witch.
But now she can't help wondering if that power is leading her
down the wrong path. Will she choose to forsake the path of lightand
follow the path of night?