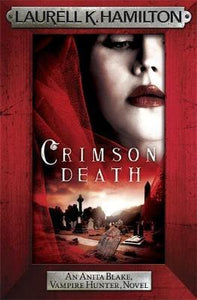 Book Title: Crimson Death /Bp
ISBN: 9781472241771
By Author(s):HAMILTON LAURELL K
By Publisher:HEADLINE
Format:PB
In Crimson Death, the twenty-fifth Anita Blake, Vampire Hunter, adventure by Sunday Times and New York Times bestselling author Laurell K. Hamilton, Anita is tested like never before in a showdown that will delight readers of Charlaine Harris and Anne Rice.

'Hamilton is still thrilling fans...with her amazing multifaceted characters and intricate multilayered world, a mix of erotic romance, crime-drama, and paranormal/fantasy fiction' Library Journal

Some say love is a great motivator, but hatred gets the job done, too.

My name is Anita Blake. I'm a vampire hunter and necromancer, and I'm about to learn that evil is in the eye of the beholder...

I've never seen Damian, my vampire servant, so vulnerable. He's being bombarded with violent nightmares and blood sweats, but now is the time I need him most. The ruthless vampire who created him might be losing control, allowing rogue vampires to run wild and break one of their kind's few strict taboos.