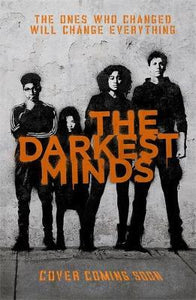 Book Title: Darkest Minds 01: Darkest Minds Fti
ISBN: 9781786540508
By Author(s):BRACKEN ALEXANDRA
By Publisher:HACHETTE CHILDREN
Format:PB
The first book in the heart-stopping The Darkest Minds trilogy, by New York Times bestselling author of Passenger, for fans of Divergent and The Hunger Games.

Now a major motion picture from the producers of Stranger Things and Arrival. This is the film tie-in edition, with EIGHT PAGES of full-colour photos.

Ruby is sixteen. She is dangerous. And she is alive. For now.

A mysterious disease has killed most of America's children. Ruby might have survived, but she and the others have emerged with something far worse than a virus: frightening abilities they cannot control. Pressured by the government, Ruby's parents sent her to Thurmond, a brutal state 'rehabilitation camp', where she has learned to fear and suppress her new power. But what if mastering it is a whole generation's only chance for survival?