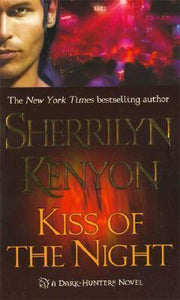 Book Title: Darkhunter5 Kiss Of Night 
ISBN: 9780312992415
By Author(s):KENYON SHERRILYN
By Publisher:HOLTZBRINCK
Format:PB
Wulf is an ancient Viking warrior with a useful but extremely aggravating power-amnesia. No one who meets him in person can remember him 5 minutes later. It makes it easy to have one-night stands, but hard to have a meaningful relationship, and without true love he can never regain his soul. When he finally meets Cassandra, the one woman who can remember him, she turns out to be the princess of the cursed race he's sworn to hunt-and forbidden to him. The two of them must face ancient curses, prophecies, and the direct meddling of the Greek gods to find true happiness at last.