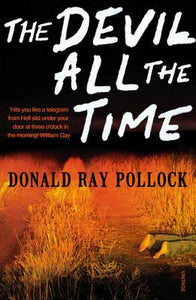 Book Title: Devil All Time 
ISBN: 9780099563389
By Author(s):POLLOCK DONALD RAY
By Publisher:RANDOM HOUSE
Format:PB
**NOW A MAJOR NETFLIX FILM STARRING TOM HOLLAND AND ROBERT PATTINSON**

'Some people were born just so they could be buried'

In Knockemstiff, Ohio, war veteran Willard can't save his beautiful wife, Charlotte, from a slow death by cancer no matter how much sacrificial blood he pours on his 'prayer log'.

Carl and Sandy Henderson, a husband-and-wife team of serial killers, trawl America's highways searching for suitable models to photograph and exterminate.

Preacher Roy and his crippled virtuoso-guitar-playing sidekick are running from the law.