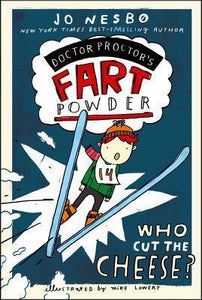 Book Title: Doctor Proctor's Who Cut Cheese'
ISBN: 9781442433083
By Author(s):NESBO JO
By Publisher:SIMON & SCHUSTER
Format:PB
"Large helpings of whimsy, humorous black-and-white illustrations, and the occasional fart joke provide plenty of silliness" (Booklist) in the third Doctor Proctor adventure from New York Times bestselling author Jo Nesbø. Nilly, Lisa, and Doctor Proctor are too busy inventing things to watch TV, and everyone says they're missing out on the hot singing competition. But then Nilly and Lisa notice that their friends and family are acting really weird. And the only people acting weird...are the ones watching TV. What's going on is WAY bigger than a singing competition. It could mean the end of the world. Or a silent but deadly could save everything! Let 'er rip.