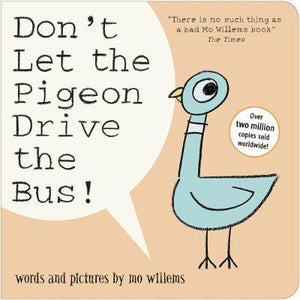 Book Title: Don'T Let Pigeon Drive Bus!
ISBN: 9781406386073
By Author(s):WILLEMS MO
By Publisher:Walker
Format:BB
Mo Willems' acclaimed picture book debut in a brand new board book format.

When a bus driver takes a break in this hilarious Caldecott Honor-winning picture book, he gives the reader just one instruction: "Don't let the pigeon drive the bus!" But, boy, that pigeon tries every trick in the book to get in that driving seat: he whines, wheedles, fibs and flatters. Will you let him drive? Told entirely in speech bubbles, this brilliantly original and funny picture book demands audience participation!