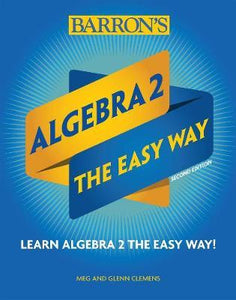 Book Title: E-Z Algebra 2
ISBN: 9781438012148
By Author(s):CLEMENS
By Publisher:KAPLAN US
Format:PB
This new edition in Barron's E-Z Series contains everything students need to succeed in an algebra 2 class. E-Z Algebra 2 covers the following topics: Linear Functions, Absolute Value Functions, Polynomial Operations, Quadratic Functions, Complex Numbers, Functions and Relations, Polynomial Functions, Radicals, Rational Functions, Exponential Functions, Logarithmic Functions, Series and Sequences, and Statistics and Modeling. Review exercises are at the end of each chapter.

The E-Z Series presents new, updated, and improved versions of Barron's longtime popular Easy Way books. Updated cover designs, interior layouts, and more graphic material than ever make these books ideal as self-teaching manuals. Teachers have discovered that E-Z titles also make excellent supplements to classroom textbooks. Skill levels range between senior high school and college-101 standards. All titles in the series present detailed reviews of the target subject plus short quizzes and longer tests to help students assess their learning progress.