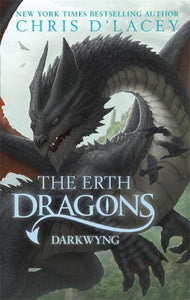 Book Title: The Earth's Dragons 02: Dark Wyng
ISBN: 9781408332511
By Author(s):D'LACEY CHRIS
By Publisher:HACHETTE CHILDREN
Format:PB
The second in the stunning new fantasy series from the New York Times bestselling author, Chris d'Lacey.

A dark stranger walks among the men.
A dark force waits in the mountains.
A dark wyng will be formed.
The dark dragon is coming...

Ren is the first of his kind - a boy with the skills of a dragon. But as he tests his new powers, the dragons are growing wary.

Meanwhile, a strange man has joined the hom, determined to help them wreak vengeance on the skalers. He knows about the dragons, but can he be trusted?

As tensions rise between hom and dragon, both are unaware that there's a bigger battle coming... because the dark dragon will rise again...