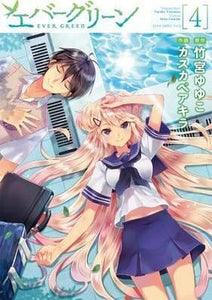 Book Title: Evergreen Vol.4 /P
ISBN: 9781626922419
By Author(s):TAKEMIYA YUYUKO
By Publisher:HOLTZBRINCK
Format:PB
Evergreen is an ongoing comedy manga series that highlights high school romance at its best. By Yuyuko Takemiya, the bestselling author of the Toradora! franchise, Evergreen combines bold and energetic artwork with a character-driven storyline that features a disabled protagonist in a deeply touching, yet hilarious, coming-of-age love story. Evergreen is an ongoing manga series that includes colour inserts in each volume. Yoshimatsu Hotaka has a dark past, although you'd never know it. As a second year high school student and president of the school's manga club, Yoshimatsu seems like your average, well-acclimated teenager, but a past surgery and a present handicap haunt him. Lacking the confidence to approach the radiant female ace of the swim club, Niki Awaya, Yoshimitsu can only admire her dazzling beauty from afar. So when a chance opportunity allows for a meeting between Yoshimatsu and Niki, what does the future hold for such disparate individuals? Could they possibly have more in common than meets the eye?