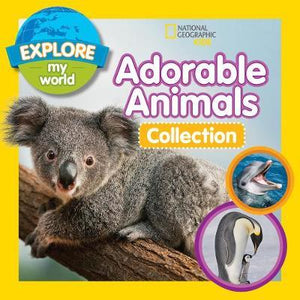 Book Title: Nat Geo Kids : Explore my world Adorable Animals 3 In 1
ISBN: 9781426329494
By Author(s):ESBAUM JILL & BAINES BECKY
By Publisher:RANDOM HOUSE
Format:PB
Curious little kids will be eager to learn all about the adorable animals featured in this charming three-in-one bind-up book.

With koalas, dolphins, and penguins, it's triple the fun and a great way to introduce kids to reading. Explore My World picture books combine simple stories with unforgettable photography. They invite little kids to take their first big steps toward understanding the world around them and are just the thing for parents and kids to curl up with and read aloud.