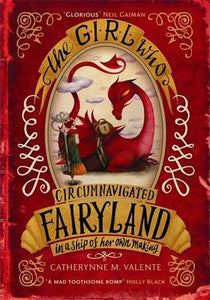 Book Title: Fairyland01 Girl Who Circumnavigated
ISBN: 9781780339818
By Author(s):VALENTE CATHERYNNE M.
By Publisher:CONSTABLE & ROBINSON
Format:PB
September is a twelve-year-old girl, Somewhat Grown and Somewhat Heartless, and she longs for adventure. So when a Green Wind and a Leopard of Little Breezes invite her to Fairyland - well, of course, she accepts (mightn't you?). When she gets there, she finds a land crushed by the iron rule of a villainous Marquess - she soon discovers that she alone holds the key to restoring order.

As September forges her way through Fairyland, with a book-loving dragon and a boy named Saturday by her side, she makes many friends and mistakes. But while she loses her shadow, her shoe and her way, she finds adventure, courage, a rather special Spoon, and a lot more besides . . .