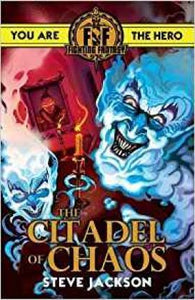 Book Title: Fighting Fantasy: Citadel Of Chaos
ISBN: 9781407181257
By Author(s):JACKSON STEVE
By Publisher:SCHOLASTIC UK
Format:PB
PART STORY, PART GAME - PURE ADVENTURE!

"A new way of telling stories and in many ways the birth
of modern gaming, these books captured the imaginations of a generation
of kids - it's great to think that a new generation are
going to be similarly captivated" bestselling author Charlie
Higson


Are YOU brave enough to enter the trap-filled
lair of the sorcerer Balthus Dire...?

You are
a fearless young wizard, armed with magic spells - the last hope
to defeat the dread warlord Balthus Dire whose sorcery threatens
the land. You must enter his forbidden citadel and take
on his monstrous minions, or perish in the process ... step
up, hero, it's time to fight!