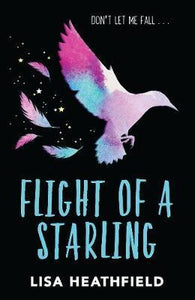 Book Title: Flight Of A Starling
ISBN: 9781405285902
By Author(s):HEATHFIELD LISA
By Publisher:EGMONT
Format:PB
The stunning new novel from award-shortlisted Lisa Heathfield, author of Seed and Paper Butterflies. Perfect for fans of Jennifer Niven's All the Bright Places, Lisa Williamson, Sarah Crossan and Sara Barnard.


Rita and Lo, sisters and best friends, have spent their lives on the wing - flying through the air in their trapeze act, never staying in one place for long. Behind the greasepaint and the glitter, they know that the true magic is the family they travel with.