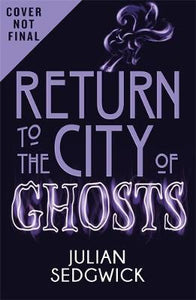 Book Title: Ghosts Shanghai : Return To City Of Ghost
ISBN: 9781444924510
By Author(s):SEDGWICK JULIAN
By Publisher:HACHETTE CHILDREN
Format:PB
'The thing about ghosts is sometimes we create our own. And sometimes they find us, no matter what we do.'

The thrilling conclusion to the Ghosts of Shanghai by the award-winning author of the Mysterium trilogy, for fans of Philip Pullman, Susan Hill and Robin Stevens.

Ruby is on a mission to rescue the boy she loves: Charlie has been swept away in the powerful waters of the River Yangtze. But the world she loves is now broken by danger and fear, and Ruby is lost and surrounded by ghosts.

Can Ruby trust herself, and those around her, to find Charlie and return to Shanghai? Or has she ventured too deep into the realm of spirits?

On an amazing journey down the Yangtze, crossing from one world to the other, Ruby must follow the 'red thread of destiny' to find Charlie and home, before she loses herself . . .