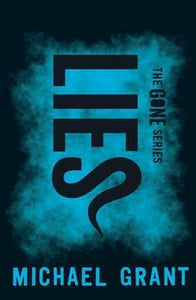 Book Title: Gone03:Lies
ISBN: 9781405277068
By Author(s):GRANT MICHAEL
By Publisher:EGMONT
Format:PB

It happens in one night: a girl who died now walks among the living, Zil and the Human Crew set fire to Perdido Beach, and amid the flames and smoke, Sam sees the figure of the boy he fears the most. As life in the FAYZ becomes more desperate, no one knows who they can trust.

The GONE series is Lord of the Flies for the 21st century. In turns breathtaking, harrowing, and utterly terrifying. Its complex characters and moral dilemmas will delight fans of The Hunger Games, Divergent and The Maze Runner. This is dystopian fiction at its best.

Have you got all 6 titles in the New York Times bestselling saga: Gone, Hunger, Lies, Plague, Fear, and Light?