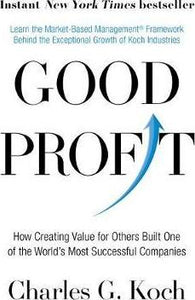 Book Title: Good Profit /P
ISBN: 9780349416069
By Author(s):CHARLES KOCH
By Publisher:PIATKUS
Format:PB
A NEW YORK TIMES BESTSELLER

Koch Industries is one of the largest private companies in the world with an estimated worth of $100 billion. But what makes this company so profitable? You won't find its name on the connectors in your smartphone or your baby's ultra-absorbent nappies, but Koch makes these and many other innovations, driven by its Market-Based Management (R) system for generating good profit.

Good profit results from products and services that improve people's lives. It results from a culture where employees are empowered to be entrepreneurial and customer-focused.

Drawing on stories from his nearly six decades in business, Charles Koch shows how any company, industry or organisation can:

* Thrive in spite of disruption and changing consumer values

* Create accountability with ownership and decision rights for employees based on their comparative advantages and contributions, not job title

* Foster a culture of knowledge-sharing that rejects bureaucracy and hierarchy

* Offer employees compensation limited only by the value they create - not budgets or policy

A must-read for leaders, entrepreneurs, students and anyone who wants a more civil, fair and prosperous society, Good Profit is destined to rank as one of the greatest management books of all time.