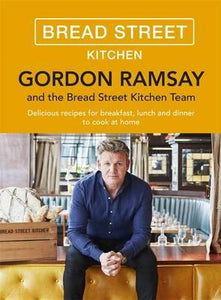 * Good as gifts!
Book Title: Gordon Ramsay Bread Street Kitchen
ISBN: 9781473651432
By Author(s):GORDON RAMSAY
By Publisher:HODDER & STOUGHTON
Format:HC
'If you think you can't eat as well at home as you do in a restaurant - think again. I'm going to show you how to cook stunning recipes from Bread Street Kitchen at home.'
GORDON RAMSAY

From breakfast to dinner and everything in between, this is a collection of 100 fresh new recipes from Gordon Ramsay and the award-winning team at Bread Street Kitchen. Like the restaurant itself, the book is all about relaxed and sociable eating, using fresh ingredients, simple techniques all delivered with the signature Gordon Ramsay stamp so that you know it's going to be good.

Recipes include Ricotta Hotcakes with Honeycomb Butter - perfect for a weekend brunch, Sea Trout with Clams or a Crispy Duck Salad for a weekday supper. For a weekend get together, get things off to a good start with a Bread Street Kitchen Rum Punch and Slow Roast Pork Belly with Apple & Cinnamon Sauce, followed by Pineapple Carpaccio with Coconut Sorbet or a super indulgent Coconut Strawberry Trifle.