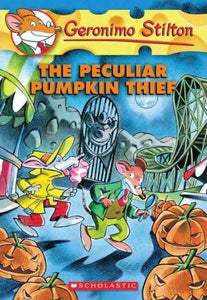 *Good as Gifts!
Book Title: Gs #42 Peculiar Pumpkin Thief
ISBN: 9780545103725
By Author(s):GERONIMO STILTON
By Publisher:SCHOLASTIC
Format:PB
Who is Geronimo Stilton?That's me! I run a newspaper, but my true passion is writing tales of adventure. Here in New Mouse City, the capital of Mouse Island, my books are all bestsellers! My stories are full of fun — tastier than Swiss cheese and tangier than extra-sharp cheddar. They are whisker-licking-good stories and that's a promise!Halloween is a few days away when all of the pumpkins in New Mouse City disappear! There's a thief on the loose, and the thief wants to stop Halloween. At the same time, all of the mice in New Mouse City receive an invitation for a free trip to the brand-new Mystery Mouse Theme Park. Geronimo knows something strange is going on, but will he and his detective friend Hercule Poirat be able to solve the mystery in time to save Halloween?