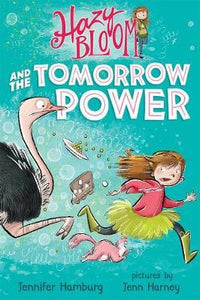 *Good as Gifts!
Book Title: Hazybloom01 Tomorrow Power
ISBN: 9781250143556
By Author(s):HAMBURG JENNIFER & HARNEY JENN
By Publisher: HOLTZBRINCK
Format:PB
The first in a funny new chapter-book series about a third grader with mysterious visions, Hazy Bloom and the Tomorrow Power is a winning tale from children's television writer Jennifer Hamburg, with illustrations by Jenn Harney. She can see the future . . . or at least, a small part of it. One perfectly ordinary afternoon, a vision flashes through third-grader Hazel "Hazy" Bloom's mind--of flying peas. The next day in the school cafeteria, a food fight erupts that involves the very same airborne veggie. After one or two more seemingly silly visions come true in unexpected ways, Hazy realizes she has a strange new power: twenty-four hours before trouble occurs, she receives a visual clue about what's going to happen. But seeing is not always understanding, and headstrong Hazy quickly discovers that "tomorrow power" sometimes only gives her the ability to make a hilarious mess of things instead of saving the day.