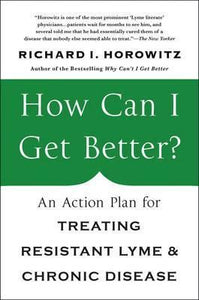 Book Title: How Can I Get Better
ISBN: 9781250070548
By Author(s):RICHARD HOROWITZ
By Publisher:HOLTZBRINCK US
Format:TPB
Since its release in the fall of 2013, Dr. Horowitz's groundbreaking text on Lyme and chronic disease Why Can't I Get Better? Has been an extraordinary success, with more than 20,000 copies sold across formats to date and a media platform that is increasing every day. Now, in this new handbook, Dr. Horowitz takes the incredible research and patient stories behind his comprehensive first text and focuses it into a direct, actionable step-by-step plan for implementing his 16 MSIDS Diagnostic Map in the treatment of Lyme and Multiple Systemic Infectious Disease Syndrome. This new handbook will also dovetail nicely with an app Dr. Horowitz is developing and which will release at the same time. The ongoing debate over Lyme disease as a chronic illness has made it difficult for sufferers to find appropriate care, as they are often misdiagnosed with Chronic Fatigue Syndrome, Fibromyalgia, Multiple Sclerosis, an auto-immune disorder, or, even worse, a psychiatric condition this specific and accessible new text will guide doctors and patients alike through the process of treating Lyme.In a field where the number of cases is growing each year, reaching epidemic proportions, and answers remain elusive, Horowitz has made extraordinary progress.
This book is an all-in-one source for patients of Lyme and other chronic illnesses to identify their own symptoms and work with their doctors for the best possible treatment outcome.