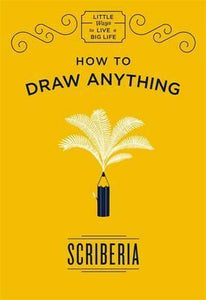 Book Title: How To Draw Anything /H
ISBN: 9781786485397
By Author(s):SCRIBERIA
By Publisher:QUERCUS
Format:HC
Do something amazing and learn a new skill thanks to the Little Ways to Live a Big Life books!

As children, when we learn to write, we gain an important life skill: a practical means of communicating that we end up using almost every day of our lives, if only to jot down a shopping list or dash out an email. As children, we also know instinctively that drawing is a great way to communicate, but later in life it isn't universally valued and nurtured in the way that writing is. It's not seen as a necessity, it's seen as a specialism.

As a result, most of us stop drawing completely, apart from the odd doodling. More than that, we lose all confidence in our ability to draw. Yet drawing is an incredibly prac tical way of turning what's inside your head into something tangible and useful. It can equip you with new means of solving problems, sharing ideas and telling stories.

How to Draw Anything sets out to repair our broken relationship with drawing. It will inspire you to pick up that pencil from where you left it all those years ago and start making pictures again. It will give you back the confidence and joy in drawing you never should have lost. And it will take drawing out of the art world and put it into your world, introducing you to drawing as a practical tool for everyday life that will change the way you work, think and communicate.