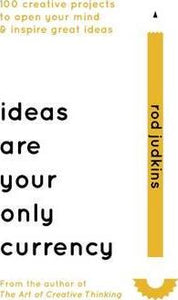 Book Title: Ideas Are Your Only Currency
ISBN: 9781473640047
By Author(s):ROD JUDKINS
By Publisher:HODDER UK
Format:HC
FUTURE-PROOFING FOR THINKERS.

'What skills and abilities will a student need to prosper in five, ten, or fifteen years' time?'

In a world of change, where skills become out of date quickly, it is ideas that last.

We all need to be prepared for a world that is fluid, global and interdisciplinary. Distinctions between specialties will blur and overlap. Change is happening at electrifying speed. In this vortex there are no maps.

Featuring 100 interactive chapters to inspire groundbreaking new ideas, this is perfect for fans of Keri Smith's Wreck this Journal, Paul Arden's It's Not How Good You Are and Rolf Dobelli's global bestseller The Art of Thinking Clearly.