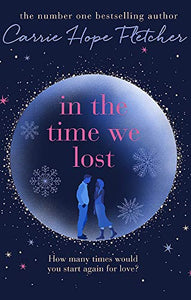 Book Title: In Time We Lost /T**
ISBN: 9780751571257
By Author(s):FLETCHER CARRIE HOPE
By Publisher:LITTLE BROWN
Format:TPB
Luna Lark used to love her name, but that was before people started saying it differently.

I'm so sorry, Luna.
Are you alright, Luna?
Everything will be okay, Luna.

Luna doesn't want pity, what she wants is a fresh start. Somewhere she can make headway on her next novel, mend her broken heart, and - most importantly - keep herself to herself.

For that Luna needs the most remote place she can find: Ondingside, a magical little island off the wild coast of Scotland. And when the town is cut off on her first night by a freak July snow storm it feels like fate.

But Luna soon realises that being a newcomer in a small town might not be the best way to blend in. People are curious about her - handsome, kind, coffee shop owner Beau in particular. Will history repeat itself or will they have a future?