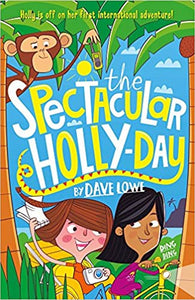 *Good as Gifts!
Book Title: Incredible Dadventure 3: Spectacular
ISBN: 9781848126114
By Author(s):LOWE DAVE
By Publisher:BONNIER
Format:PB
Dad's taking Holly on one of his travel-writing trips - to Malaysia! Holly can't wait to explore all the new sights, sounds and smells Asia has to offer. But Dad has other things in mind . . . Instead of exploring the jungles, he's busy making the most of the free spa and sticking Holly in the dreaded Adventure Club.

If Holly wants a real adventure, she's going to have to find it herself.

The third in the 'Dadventure' series, a perfect family story or read-alone for fans of David Baddiel and THE 13-STOREY TREEHOUSE.