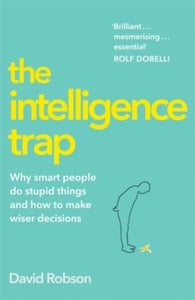 Book Title: Intelligence Trap
ISBN: 9781473669840
By Author(s):DAVID ROBSON
By Publisher:HODDER & STOUGHTON
Format:TPB
'A startling, provocative and potently useful book' Sunday Times

What blinkered Einstein and Edison? Why did Steve Jobs and NASA make lethal errors of judgement? How might environmental disaster and social inequality be averted?

It is time for us to learn a new way of thinking.

The twenty-first century presents complex problems that require a wiser way of reasoning, one that recognises our current limitations, tolerates ambiguity and uncertainty, balances multiple perspectives, and bridges diverse areas of expertise.

Whatever our age and experience, whether a NASA scientist or a school student, we will benefit from wielding our minds with insight, precision, social sensitivity and humility.

In an exhilarating journey through current research, drawing on insight from Socrates to Benjamin Franklin and some of the world's most successful industries, award-winning science journalist David Robson shows how to build a cognitive toolkit to help us all maximise our full potential.