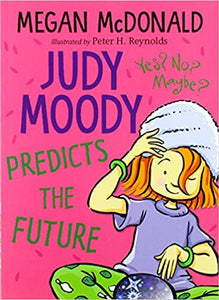 * Good as Gifts!
Book Title: Judy Moody #4 Predicts Future 
ISBN: 9781406381436
By Author(s):MCDONALD MEGAN & REYNOLDS PETER H
By Publisher: WALKER
Format:PB
Another day. Another mood. Meet Judy Moody at her moodiest-best, in this laugh-a-minute fourth adventure in the international bestselling series. Perfect for fans of Clarice Bean, Penny Dreadful and Agatha Parrot, this is the fourth book in the internationally popular and bestselling Judy Moody series. Judy's mood ring has Extra Special Powers, which have put her in a predicting mood! But when Judy wrongly predicts a 110% result in her spelling test she begins to think that all her predictions are fictions. She has one last chance to prove her psychic abilities. Is her teacher, Mr Todd, really in love? All signs point to yes.