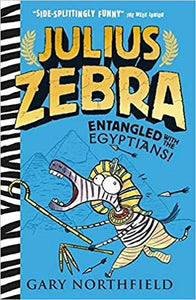 Book Title: Julius Zebra: Entangled Egyptian
ISBN: 9781406371802
By Author(s):NORTHFIELD GARY
By Publisher:WALKER
Format:HC
The third title in Gary Northfield's exciting, action-packed and hysterically funny series brimming with entertaining Roman and Egyptian facts.

After being shipwrecked on the shores of Egypt and mistaken for a Horse God, Julius can't believe his luck! Soon he and his bedraggled friends will be living it up in the city of Alexandria; preened and pampered like gods. Then a fancy boat procession will take them down the River Nile to Giza where, of course, a lavish party will be thrown in Julius's honour - as well as getting the obligatory tour of the Pyramids. BUT it is this very tour that seems to signal the end to their glorious fortunes in Egypt. On a visit to the Tomb of Cleopatra, Felix is unable to resist a rather lovely looking treasure for his rock collection... He pockets the jewel and immediately a curse falls upon the group. And so the ridiculous adventure begins where Julius fights for his life as the Egyptians come to unravel the truth and realize that he is not quite what they thought he was...