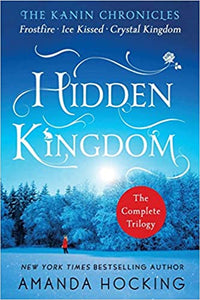 Book Title: Kanin Hidden Kingdom Complete Trilogy
ISBN: 9781250148612
By Author(s):HOCKING AMANDA
By Publisher:HOLTZBRINCK
Format:PB
All three books in the New York Times bestselling Kanin Chronicles trilogy by Amanda Hocking are together for the first time in one spectacular volume! Bryn Aven doesn't fit into Kanin society. Her blond hair and blue eyes mark her as a half-blood, unable to hold a respectable rank. But Bryn is determined to prove herself as a loyal protector of the kingdom she loves, and nothing will stand in her way. Not even her growing attraction to her boss, Ridley Dresden...even though a relationship between them is strictly forbidden. After a brutal enemy attacks the Kanin, Bryn finds herself on a quest to save her people. But is Bryn willing to risk everything to protect a kingdom that doesn't accept her for who she really is? And as the mission brings her closer to Ridley, can Bryn deny her heart any longer? One thing is clear: they're about to unravel a long-hidden secret about the Kanin kingdom, and it will change Bryn's place in it forever.