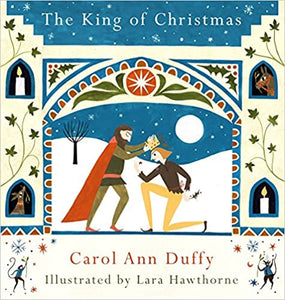 Book Title: King Of Christmas
ISBN: 9781509834570
By Author(s):Carol Ann Duffy
By Publisher:PAN MACMILLAN UK
Format:HC
On a frosty winter evening, the Baron watches the snow fall. He is bored and worried. It will soon be Christmas and everything is too quiet. What can he do to bring excitement to the Manor?

His wife, the Baroness, has an idea: he can appoint a King of Christmas, a peasant to take his place. And so begin twelve days of chaos, anarchy and merriment . . .

Inspired by the medieval tradition of appointing a Lord of Misrule, Carol Ann Duffy's warm and enchanting Christmas poem takes us into a topsy-turvy world of festivity and celebration, where rules no longer apply. With beautiful full-colour illustrations by Lara Hawthorne throughout, The King of Christmas is the perfect gift this festive season.