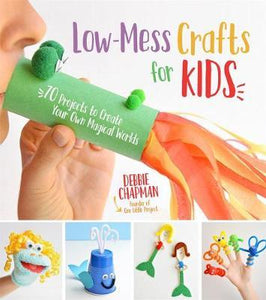 *GOOD AS GIFTS!
Book Title: Low-Mess Crafts For Kids:72 Proj /P
ISBN: 9781624145582
By Author(s):DEBBIE CHAPMAN
By Publisher:HOLTZBRINCK US
Format:PB
With Debbie's techniques - like creating a beautiful butterfly without glue or using leftover paper scraps for flowers - you really can do crafts without making a huge mess. The projects in each chapter create their own wonderful worlds for children to play in. Whether they want to create a world under the sea, a magical garden, or a monster puppet show, Debbie provides step-by-step photos to make these projects extra kid-friendly. Projects include Shimmery Jewel Dragon Flies, Paper Roll Octopus, Rubber Glove Dragon and Plastic Bottle Alien.

Besides being low-mess, all of these 70 projects can be made with supplies you already have at home - clothespins, paper towel rolls, construction paper, pipe cleaners and tissue paper - making craft time easier than ever.

Debbie Chapman is the founder of One Little Project, a blog that focuses on cooking, baking and crafting. She has over 270K followers on Facebook and over 178K on Pinterest.