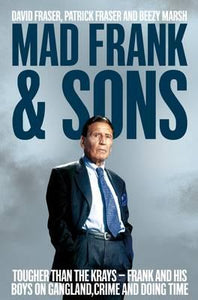 Book Title: Mad Frank And Sons
ISBN: 9781509807956
By Author(s):DAVID FRASER
By Publisher:PAN MACMILLAN UK
Format:PB
Drawing on exclusive final interviews with Frank, and with unprecedented access to his closest relatives, Mad Frank and Sons follows his rise from a small kid stealing to put food on the table to a feared and respected West End crime lord and head of a legendary gangland family. It includes the story of Frank's beloved sister, Eva, who was a top-class West End shoplifter, and his sons David and Patrick, who reveal in shocking detail the full extent of the family's network and the influences that shaped them.

With sawn-off shotguns as toys, the Kray twins as family friends and a mother who urged them as teenagers to 'get out of bed and rob a bleedin' bank', it is little wonder that the Fraser boys were heavily involved in organized crime by the time they were in their twenties. Packed with new information, and featuring some of the most famous names in the London underworld, this is a fascinating slice of gangland history seen through the eyes of Frank Fraser and his two renegade sons.