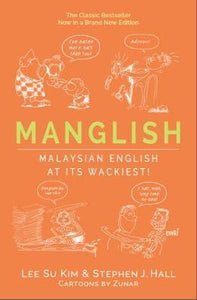 Book Title: Manglish: Malaysian English Wackiest
ISBN: 9789814841429
By Author(s):LEE SU KIM
By Publisher:MARSHALL CAVENDISH
Format:PB
Now back after 20 years with brand new words, expressions and idioms, this hilarious classic remains packed with humour, irreverence and loads of fun. It bids all Malaysians to lighten up, laugh at ourselves and revel in our unique, multicultural way of life.

Forget about tenses, grammar, pronunciation, and just relek lah ... Aiyoh. Manglish or Malaysian English is what Malaysians speak when we want to connect with each other or just hang loose. Borrowing from Malay, Chinese, Indian, Asli, British English, American English, dialects, popular mass media and plenty more, our unique English reflects our amazing diversity. Like a frothy teh tarik or a lip-smacking mouthful of divine durian, Manglish is uniquely Malaysian.

Manglish is an entertaining, funny and witty compilation of commonly used Malaysian English words and expressions. Whether Malaysian, expat, visitor or a fresh-off-the-plane Mat Salleh, you'll never be at a loss for words when conversing with Malaysians.