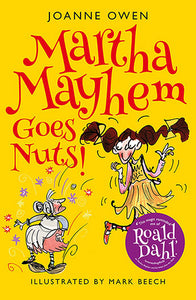 *Good as Gifts!
Book Title: Martha Mayhem Goes Nuts!
ISBN: 9781848125599
By Author(s):OWEN JOANNE
By Publisher:BONNIER
Format:PB
The second in a fantastic funny younger series from Carnegie and Branford Boase long-listed author, Joanne Owen.

Martha is still causing accidental mayhem in this second book in the series.

She accidentally drops a nutmeg into a "grow and move" potion concocted by grumpy witch, Griselda Gritch . . . and mayhem unfolds, including an even-grumpier-than-Griselda-Gritch magical nutmeg lady, the village hall being accidentally knocked down by a herd of cows, and a VERY eventful and catastrophic village fete and football match.